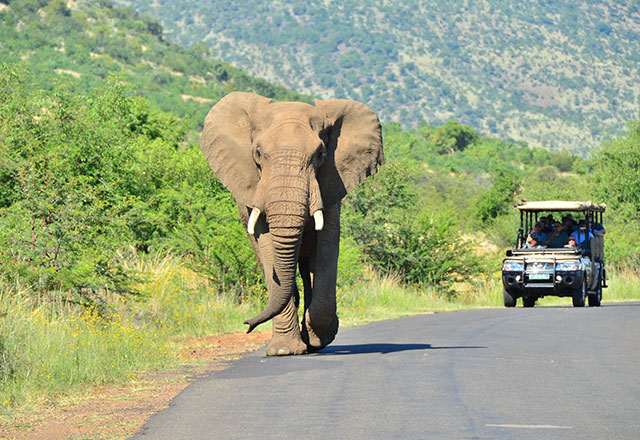 Not only is The Kingdom Resort the best family bush destination, it is also right on the doorstep of the Pilanesberg National Park!
From the Big 5 to unrivalled hot air balloon experiences, read below about making the most of your Pilaneberg Experience.
Wildlife
It probably goes without saying that the main draw to Pilanesberg National Park, both for foreign visitors and locals, is the opportunity of seeing the big five. Pilanesberg also has a high concentration of brown hyena, as well as all the usual game suspects such as hippos and the endangered African wild dogs.
Compared to the likes of Kruger or Kgalagadi, Pilanesberg is a small park (550km2 compared to Kruger's 22,000km2), so you can easily scope out most of the best viewing spots or hides within a single day of game driving. Nonetheless, some parts of the park remain largely inaccessible to general visitors, so remember to pack the binoculars and some big lenses for your camera.
For spotting leopard, the rocky outcrops and koppies along the Mankwe Way dirt road below the main dam are a good bet. You'll have better luck spotting the other big cats in the open plains further to the east of the park along Tshewene drive or Dithabaneng road, especially early in the morning before the sun has fully risen.
The Mankwe dam itself tends to be the best place for hippos. Rhinos and elephants are also found throughout most of the park; often you won't even have to leave the main tar roads to see these great beasts quietly grazing or slowly making their way to the nearest waterhole.
The last piece of the big 5 puzzle is the African buffalo. Deemed a rare sighting in Pilanesberg, you should find small herds towards the wilder and greener far western reaches of the park.
Things to do
If you want to see the park's beautiful, undulating landscape from a different perspective, hot air balloon safaris are another option. Flights are followed by sparkling wine, a game drive and breakfast.
For the more intrepid, there are a few hiking trails with experienced, qualified guides as well as guided elephant back safaris.
When to visit
The drier winter months (June to October) are generally considered to be better for game viewing, especially for the more elusive big cats and black rhino. At this time of year the grass is lower and the vegetation less dense in general, plus the fact that much of the wildlife will be more likely to be drawn to water as it becomes a scarcer resource.
Getting there
One of the great perks of Pilanesberg is the ease of access from either Kimberley, Durban or particularly Johannesburg, which is just 120km or so away from the park's gates. There is also an airport for chartered flights on the outskirts of Pilanesberg towards Sun City.
Source: Traveller 24/Media 24